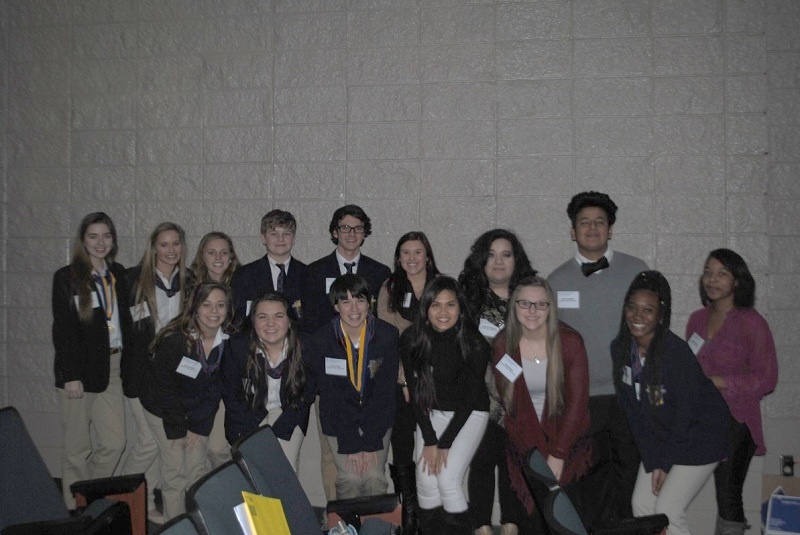 by Kenley Lamb
Appling County High School students attended the FBLA Region 2 Competition at Ware County High School on January 13th in Waycross, Georgia. Members competed in online objective events in December and then traveled to Waycross to compete in performance events. An awards ceremony was held on January 13th to acknowledge student achievement.
Appling County had 18 students to compete in Region Competitive events this year. Eight students were recognized at the Awards of Excellence Ceremony. Members may compete in individual and team events. In online objective testing, Cami C. placed 8th in Business Calculations and Kenley L. placed 9th in the same event. Both of these individuals qualified to compete at State Leadership Conference in March.
Performance events allow students the opportunity to share their presentation skills with judges. Emma B., Lexi H., and Caroline R. placed 3rd in Introduction to Business Presentation for their performance event. Cami C. competed in Public Speaking II and placed 2nd. The team of Kenley L. and Lynsey S. placed 2nd in the area of Business Ethics with their presentation on the use of animal testing on products for safety and human use ethical. Tyler T. and Brycen L. placed 2nd in Emerging Business Issues for their presentation on unlocked and jailbroken devices. Cami C., Kenley L., Lynsey S., Brycen L. and Tyler T. each earned a bid to compete at the State Leadership Conference March 6-8, in Athens, Georgia.
The club's advisers are Jena Cranford, Vickie Carter, and Alison Lamb. The students in the ACHS FBLA chapter will next participate in the state leadership conference in Athens, GA on March 6-8.