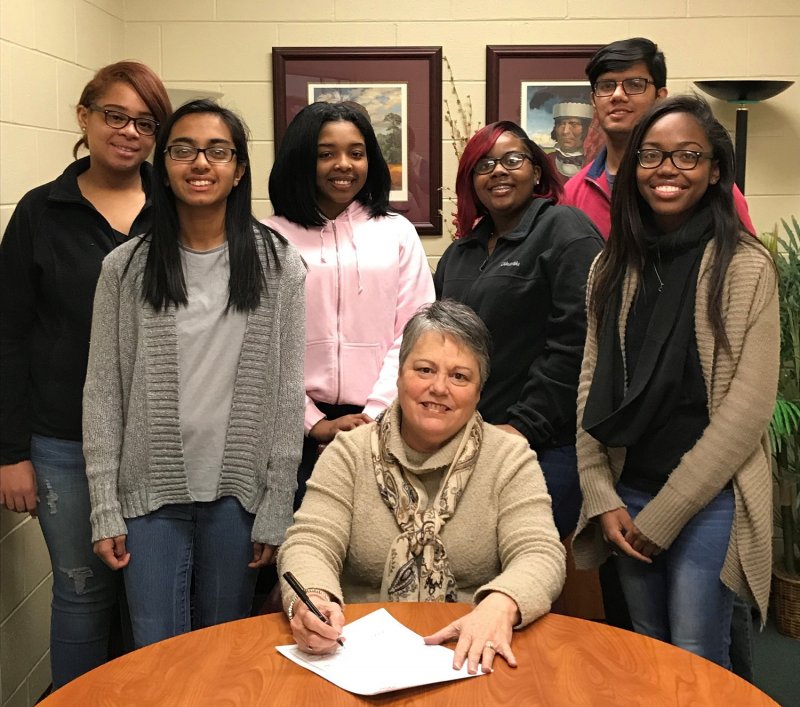 Chair Sheila Williams of the Seminole County Commissioners signed a proclamation declaring February 4-10, 2018 FBLA Week in Seminole County. Local Chapter Officers witnessing the signing are: (l-r) Secretary Reshonda Mosely, Reporter/Historian Radhika Patel, President Bianca Torres, County Commissioner Chair Sheila Williams, Treasurer Melody Bryant, Vice President Punit Kapadia, and Parliamentarian Shanderica Carr.
FBLA-PBL sets aside the second week of February each year as National FBLA-PBL Week.  The local chapter is participating various activities such as theme dress days, career lessons, a pizza party, random acts of kindness, etc.  In addition, they will be recognizing the Wednesday of this week as Adviser Appreciation Day. Members will be using this day to pay special tribute to the dedicated individuals who make the association possible on the local level.
Advisers for the local chapter are Kim Orrick and Kathryn Trawick.