About 120 South Forsyth High School FBLA members gathered in an event which signified various leadership opportunities. This event, Fall Rally, signified the growth of connections between members as well as the growth of knowledge due to the testing events offered.
The Fall Rally was organized by first giving students an introduction about being a leader by a guest speaker. This guest speaker signified the vital skill of continuing to be motivated even when facing obstacles. He emphasized the importance FBLA had on his own personal life. This speech allowed members to relate to and use the same skills for their own personal experiences.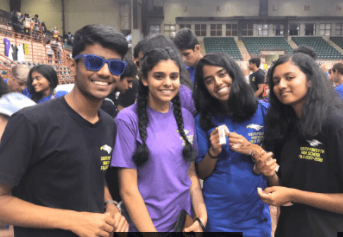 Furthermore, the event gave members a chance to test their leadership  knowledge and help represent their school. Members of South Forsyth FBLA  were able to take as many tests as they wanted and be eligible to win.
After displaying their leadership skills, students were given the chance to create stronger connections with their team members by riding fair rides. This opportunity overall tested members' abilities to face fears and push their weaknesses.